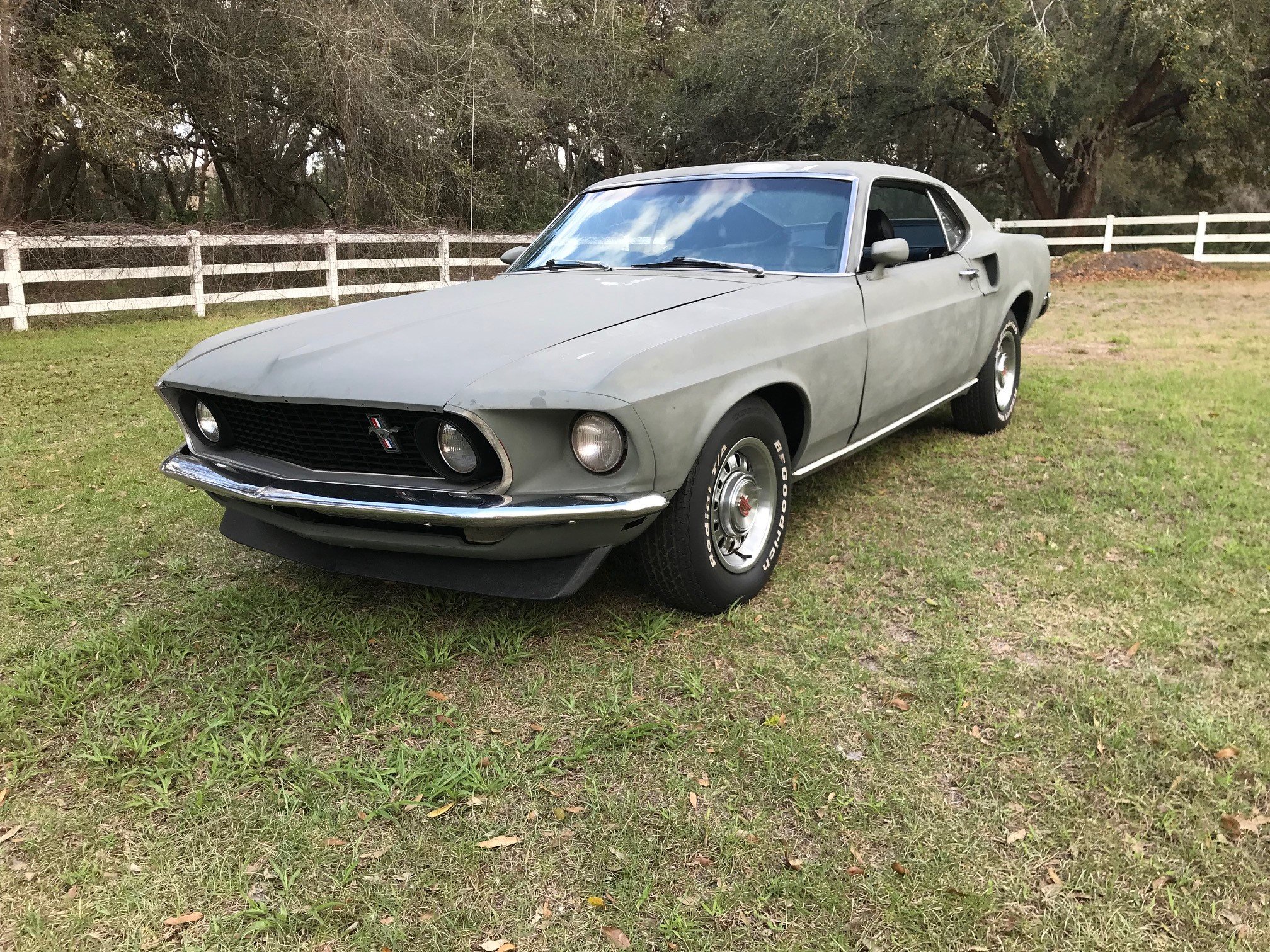 Content Count

129

Joined

Last visited

Days Won

6
stangs-R-me

reacted to a post in a topic:

Boss 9 Tribute

Wow it's been a while. I've finally finished my winter/spring projects and am back on the car. The roof panel needing those cuts and the drivers side quarter panel where it meets the rocker having that gap has been bugging me since I originally fitted the parts. On a hunch I went to NPD and bought another new roof panel. Plopped right on with an excellent fit! I have been told that I need to get my doors fitting very very well before welding and even go as far as putting all the window guts in and being able to lower and raise the window into the seal to make sure it has a good fit. So, the passenger side went really easily since the quarter panel fitted against the rocker tightly. I also realized through lots of cursing and wasted time that the door striker can be adjusted DOH! Wow that made a really huge difference in how quickly I could get the doors lined up. Once I figured it out, getting them aligned was a piece of cake. Now I am aware that once I assemble the door guts they will be heavier and I will have to re-adjust, but I am going to take this win because the gaps are great and the lines are straight. I also took the opportunity while the quarter panel was off to pull both quarter's together another 1/16th-1/8" inch to get them as close to the factory glass opening width as possible. Pretty much nailed it. I am hoping that the door interior assembly goes smoothly and that the door glass goes into the door seal tightly. Once that is done I'll fit the fenders and hood one last time to make sure everything is straight before I take it all apart again to start welding!

You're a better man than me. Work with metal? Love it. Work with wood? it's ok. Work with fiberglass f'n can't stand it. It's too messy and smelly for me. They look amazing!

OK I like the nu-relic stuff. Other than that kit, do I also need the scott drake guide kit? I think I have the run guides. I have to go through some boxes of stuff.

Hey everyone, I need your help. I am at the part of my build where I need to be able to raise/lower the windows with the proper weight in them, to make sure they are lined up property (with weatherstrip/seals) prior to welding the shell together. I want electric windows. I know that I will have to buy 70' glass (I have 69 glass but the electric conversion requires 70 glass) but other than the electric conversion, I don't know what other bits are necessary. Would someone mind going through the NPD catalog and giving me the part numbers of all the bits i'll need to have fully functional windows? I have completely empty doors. Window: https://www.npdlink.com/1965-1973-mustang/body-exterior/door-window?year=1969 Doors: https://www.npdlink.com/1965-1973-mustang/body-exterior/door-window/regulator-channel/1969-1970?year=1969 thank you

I don't think they need to come up. The wheel well arch is flush all the way around. I think it's just a poorly stamped piece. Gaps practically everywhere else are pretty good. i dont know how I'd use the ram tool you mentioned to pull the front corner down anyway. It rests on the b pillar and the metal definitely wont bend that way. I tried already and it just made it buckle.

Finally got around to doing some work on the car. Fitted the new doors. They fit much much better. Not perfect but much better. The horizontal lines are great. They line up to the quarters just fine. The gaps though at the back of the doors aren't great. I can fix that with some steel rod later. The bottom of the drivers side side quarter panel doesn't fit perfect. It's kicked upwards. I think i'm going to have to slice the quarter panel, add some metal and bring that down so it meets the rocker flush. I'll also have to add some metal to the bottom of the door as the gap is too big. I think i'm getting close to the welding stage. I'm getting nervous! Thoughts?? The passenger side fits better.

I always start on the edge and go around and end in the middle of the plug weld. Try experimenting with different wire feed speeds so that you can move the tip around enough and not waste so much weld on grinding.

Nice work Jim! Glad I could help

mikee

reacted to a post in a topic:

Boss 9 Tribute

RogerC

reacted to a post in a topic:

Boss 9 Tribute

Ridge Runner

reacted to a post in a topic:

Boss 9 Tribute

So this is what I have been doing while I was waiting for my doors from NPD. I taught myself armoring. Back story.... I built myself a complete suit of armor (a couple years ago) for fun. Then this year I wanted to give my bosses something special for christmas so I made a helmet and stand and a pair of gauntlets. Both came out great. I shape the metal by hand with no heat. Helmet took 43 hours and the gauntlets took 19 hours. The helmet is modeled after a 13th century French Sallet style helmet. It's very comfortable. The interior is wrapped in foam and leather. The Bevor portion of the helmet is fixed to the stand but both pieces are movable. Hoping to get back to the car early next month.

I was waiting for a new pair of doors for a few months. I got them, but while I was waiting i have been doing some armoring. Looking to get back to the build early Feb.

69RavenConv

reacted to a post in a topic:

Not Mustang related but...

Thought yall might like to see this. [video]https://vimeo.com/manage/videos/784804116[/video] [video=vimeo;784804116]https://vimeo.com/784804116[/video] This is a clip from season 32 episode #4 (came out earlier this year). I hope the video stays up. Youutube and Fbook keep taking it down. The clip is not available anywhere else. They apparently only ran it a few times on the air but then removed it. Was an amazing experience. FYI my Viper was running high 10 sec passes. They deliberately slowed it down for the show.... Can't have a 9 year old American car beating a shiny new electric truck! LOL. What was most bizarre about the entire thing was that they would not prep the Viper's lane but extensively prepped the Rivians. Not prepping the Viper's lane required at least 30+ runs because the driver just could not get the car to hook and he was just not used to driving a Viper (it was 45 degrees out in January at the time of filming). The closeup of the spinning tire was actually me doing the burnout! And you can see me in several of the shots, notably inside the truck. Still an amazing experience. Every one of the 60+ Topgear staff were great people and I would do this again in a heart beat. The car was driven by F1 driver Eduardo Marques. They would not confirm or deny that he is the Stig, but that he does travel with them for the show and does most of the stunt, timed driving...etc. I was fortunate enough to have Freddy and Eduardo sign the car too. Get my car on Top Gear- checked that off the bucket list!