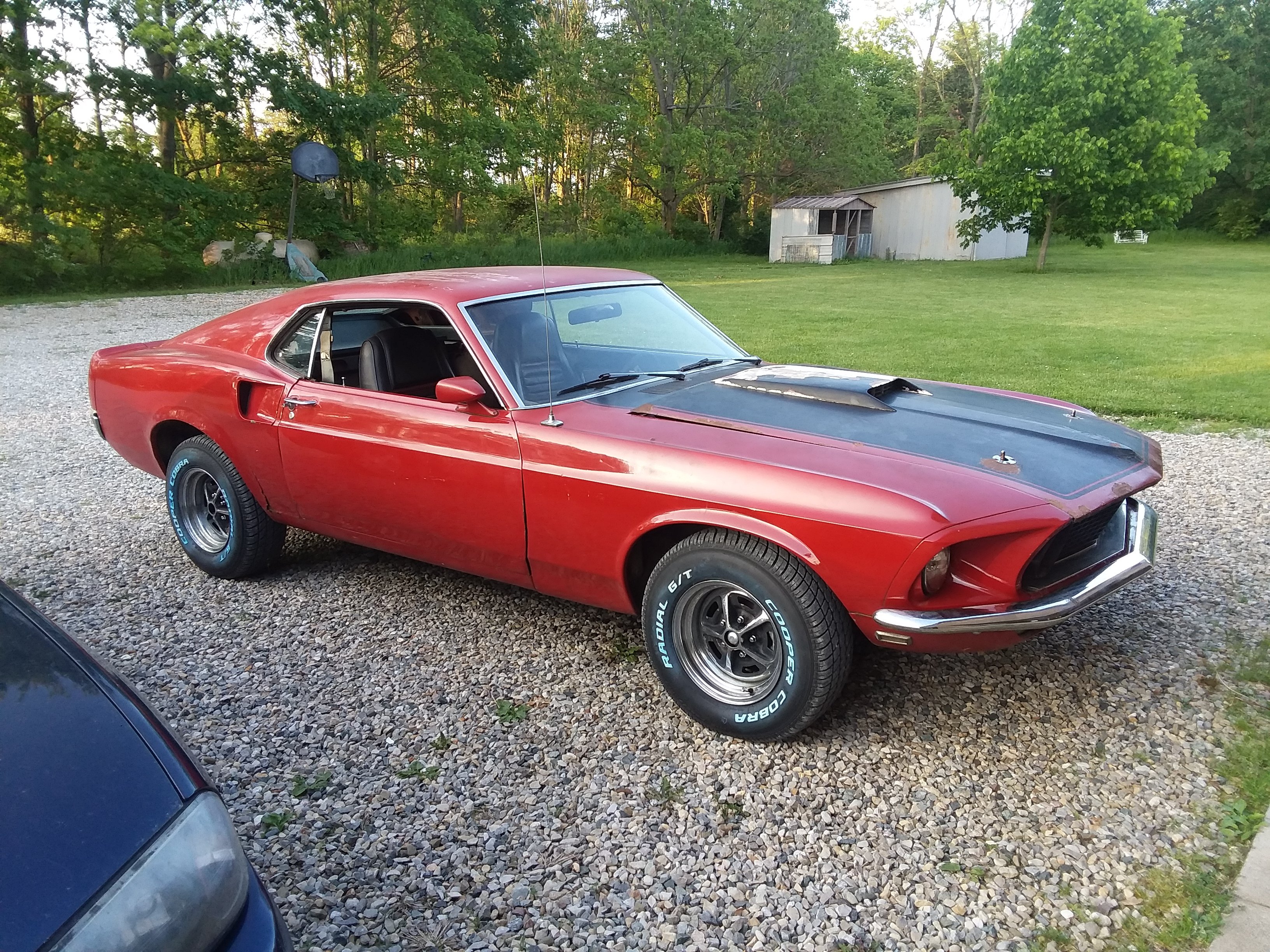 Content Count

54

Joined

Last visited
Everything posted by gnatsum
Hello everyone. I have installed an MSD digital 6AL ignition module and everything is wired up except I'm not sure where to find the ignition wire from the key switch, which connects to the MSD. Is it inside of a harness somewhere or is it a loose wire? Thanks for your help.

Hi everyone. I'm working on my 69 Mach 1 which was a factory 4 speed manual transmission car with a 390. Before I bought the vehicle, the engine and transmission plus threw shifter had been removed and an automatic shifter had been installed. The previous owner was running a 351w with an automatic. Not sure if it was a C4 or C6. The clutch pedal had been left in the car, and secured up out of the way. I want to use a C6 automatic transmission, because that's what I have available. I also am installing power brakes with a new power brake pedal. Will I need to remove the clutch assembly in order to clear the brake pedal?

I saw that Hankook had tires that might fit. Anyone have those on their vehicle?

Here's my car, a work in progress. It currently wears a rusty set of old Cragar Supertricks. The 14x7 Magnums should look much better.

Thank you everyone for your input. To answer barnett468's questions, I only intend to drive the car mildly and at regular city/highway cruising speeds and I will not be racing it or driving very aggressively. At least not yet LOL. The reason I want to go big on the tires is to fill the wheel wells as much as possible, and given that my rims are only 14 inch diameter, I'll need large tires to make that happen. The Cooper Cobras sound good, and are more in my budget. Can I do 235/75-14 all around? I believe that would be the widest and tallest, right? Am I correct that 235/75 is taller than 235/60? Any clearance issues with 235/75-14? Will those tires fit the 14x7 rims?

hello everyone. I have a 69 Mach 1 in driver condition and have acquired a set of used 14 X 7 Magnum 500 Wheels. I would like to know what are the largest and or best tires that would be appropriate for those wheels on that vehicle.

Can anyone tell me the proper length of the bolts needed to install these headers? It's either 1" or 3/4". Is it better to use allen head in lieu of socket head?

ok thank you for the replies

My 69 Mach was originally equipped with the S-code 390 and 4 speed. It now has a 351w from an 83 Bronco, with a C6 auto. Trying to install a set of 6901 Hooker headers, they fit fine after raising the engine up a few inches to maneuver them into place. However after lowering the engine back into the mounts, the headers seem to be up too high at the tail end, such that I can't imagine there's enough clearance for the h-pipe (which I don't have yet). Anything obvious that I'm doing wrong?

Thanks for your advice. Has anyone ever heard of a shop called Kammer who apparently specialize in 69-70 Mustangs.

I live around Dayton Ohio and was wondering if there's a good reputable shop somewhere nearby, who would do a little framework and a little bit of engine work but not a full restoration.

I have also seen where guys have welded the bracket at an angle if the bracket bolt didn't line up. I may try that. Not sure why it didn't line up. Thought maybe I had the wrong mounts, and I tried two other pairs of mounts with even worse alignment.

[ATTACH]14393[/ATTACH] [ATTACH]14394[/ATTACH] Photos attached.

My engine mounts wouldn't line up, so I had to remove the top bolt on each mount bracket so they could rotate and allow the mounts to bolt up. Any thoughts?

Bought a $45 load leveler sling from Pep Boys on Saturday and put the engine into the car with transmission attached. Did it by myself in an hour. I bolted the sling brackets to the front and rear sides of the heads (standard cast iron heads, not aluminum). The sling worked nicely. You can angle it up & down in order to slide the tranny into the tunnel.

OK thanks for the tip. I'll get a load leveler since I'd rather have the transmission mounted to the engine before I drop the engine in. Where to you suggest is the best place to mount the chains for the load leveler? Exhaust manifold bolt holes? Or the intake manifold or heads accessory bolt holes?

Thank you both for the info. Will the carb plate work with the transmission on the engine, or will it be too heavy on the tail end?

I am working on a 69 Mach I and have a 351W with C6 ready to install. I have bolted the trans to the engine and am wondering where to attach the hoist hook. I have seen it done several ways, but wanted to know the "best" way to pick it up. Can I run some bolts into the intake manifold? Do I need a special sling or brackets? Thanks for your input.

I bought a 69 S-code 4-speed Mach 1 in 1999 and it was in rough condition, with the 390 and trans missing. It had new floors, installed poorly, and had a decent non-original color clearcoat red paint job over top of poor body work. Interior was rough but complete and liveable. I had it appraised by a pro and he listed it at $8, 500. I think that was a little bit optimistic.

All 69 fastbacks except the Boss 302 had factory-installed roof emblems.

Thanks everyone. I'll keep trying. I'm wondering if my shock towers are spread out a little or something .

It is missing where the drivers side motor mount aligns with the frame mount. I was able to get the passenger side bolt to go in. I'll try to get photos.

Hey guys, I am working on a 69 mach originally S code 390 long gone now am trying to install a 351w from an 84 Bronco. I have 3 sets of SBF mounts but each set turns out to be about half an inch off. Any ideas of what I am doing wrong?

My 351W was from a Bronco and the oil pan won't fit into my 69 Mach. I assume I will need a different oil pump also, right? Thanks for your advice.